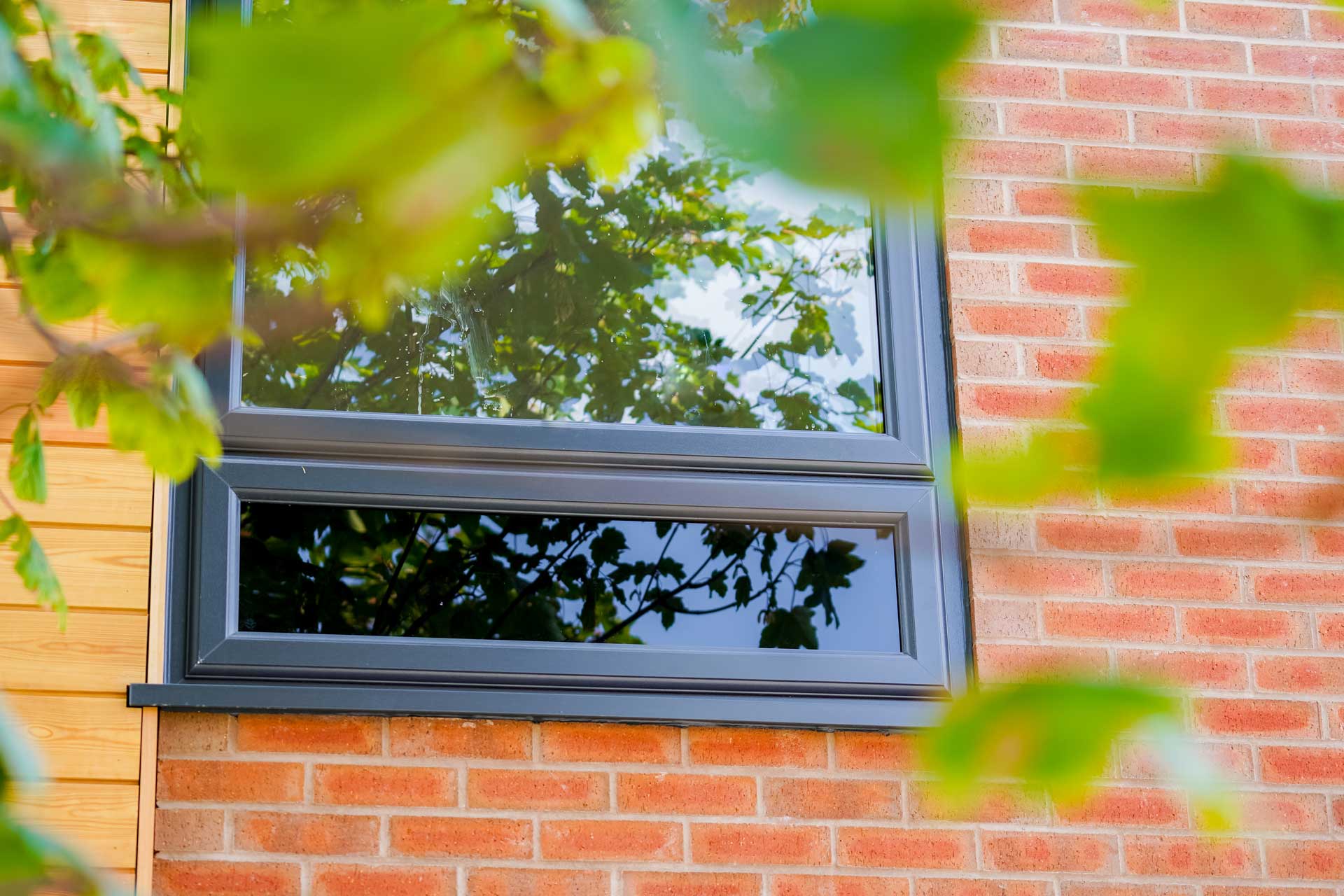 Casement Windows
Riverside Bifolds supply stunning uPVC windows that provide the best aspects of style and substance. With our double glazed windows, you could improve your home's energy efficiency, with multi chambered technology within the profile. Start your uPVC casement window quote online today!
Thermally Efficient Casement Windows Across Hampshire
Thermal efficiency is a priority for customers and a prime reason why more and more homeowners are switching to double glazed windows. We source our casement windows from leading industry supplier Liniar, ensuring an excellent quality from your double glazing. With an "A" and "A+" energy rating, these uPVC casement windows will help maintain a warm and comfortable home all year round.
Made in the UK Casement Windows
Our Liniar profile casement windows are made here in the UK, using uPVC extruded in Derbyshire. By using local suppliers, we can maintain a high level of quality control over our double glazed windows and continue to support local trades.
A+ Energy Rated
To ensure your home stays at a more consistent temperature throughout the year, our uPVC casement windows feature bubble gaskets. This creates a continuous seal all the way through the profile, making a more energy efficient property.
2 Style Options
Offering homeowners flexibility, we offer our casement windows in sculpted or chamfered styles. Sculpted frames are more traditionally decorative while chamfered frames create a sleek, modern look.
Slim Sightlines
The ultra slim sightlines afforded by the Liniar profile of our casemnet windows create a minimalist solution. As an added benefit, they'll let the maximum amounts of natural light enter the home, for a brighter living space.
Thermally Efficient
Our uPVC casement windows are perfect for homeowners that are looking to improve the energy efficiency of their home. If you currently have outdated styles of double glazing, your home could be losing warmth throughout the year. Thanks to the multi chambered profile of our windows, they can achieve A+ energy ratings.
Environmentally Friendly
Home improvements manufacturers have an obligation to the environment, taking responsibility for their environmental impact. We work with responsible suppliers to ensure the emissions of our window manufacturing are as minimal as possible. Our double glazing profiles are fully recyclable saving energy and 100% lead free, significantly reducing their carbon footprint.
Slim Sightlines
Older styles of double glazing had thick frames that limited the amount of glass panels that could be used in the profile. Modern materials such as uPVC make this a thing of the past. Our casement windows feature a slimline frame, which allows for a larger amount of glass to be used. This will see your home receiving more natural light, which comes with a variety of benefits.
More Information
Customisable Colours
We have a range of colours available across our casement window range to suit modern and traditional properties. The popular whites and creams are available to those looking for more standard colours, but we also offer woodgrain options, perfect for traditional homes.
Handle Options
The finishing touches of your uPVC casement windows can have a big impact on the overall aesthetics of your or your customer's home. A variety of handles are on offer to allow you to customise your double glazed windows to match with your preferred decorative style.
Giving customers the perfect opportunity to see our home improvements, we have a dedicated showroom that showcases our windows and doors. Here, you can have a better look at all the design options our casement windows offer, liaising with our expert staff for the perfect look.
FENSA Approved Casement Windows Based in Southampton, Hampshire
Riverside Bifolds are proud of our FENSA accreditation. Having the backing of one of the UK's top fenestration authorities reflects our dedication to providing customers with the very best casement windows. For products and a service that you can trust, choose Riverside Bifolds for your home improvements.