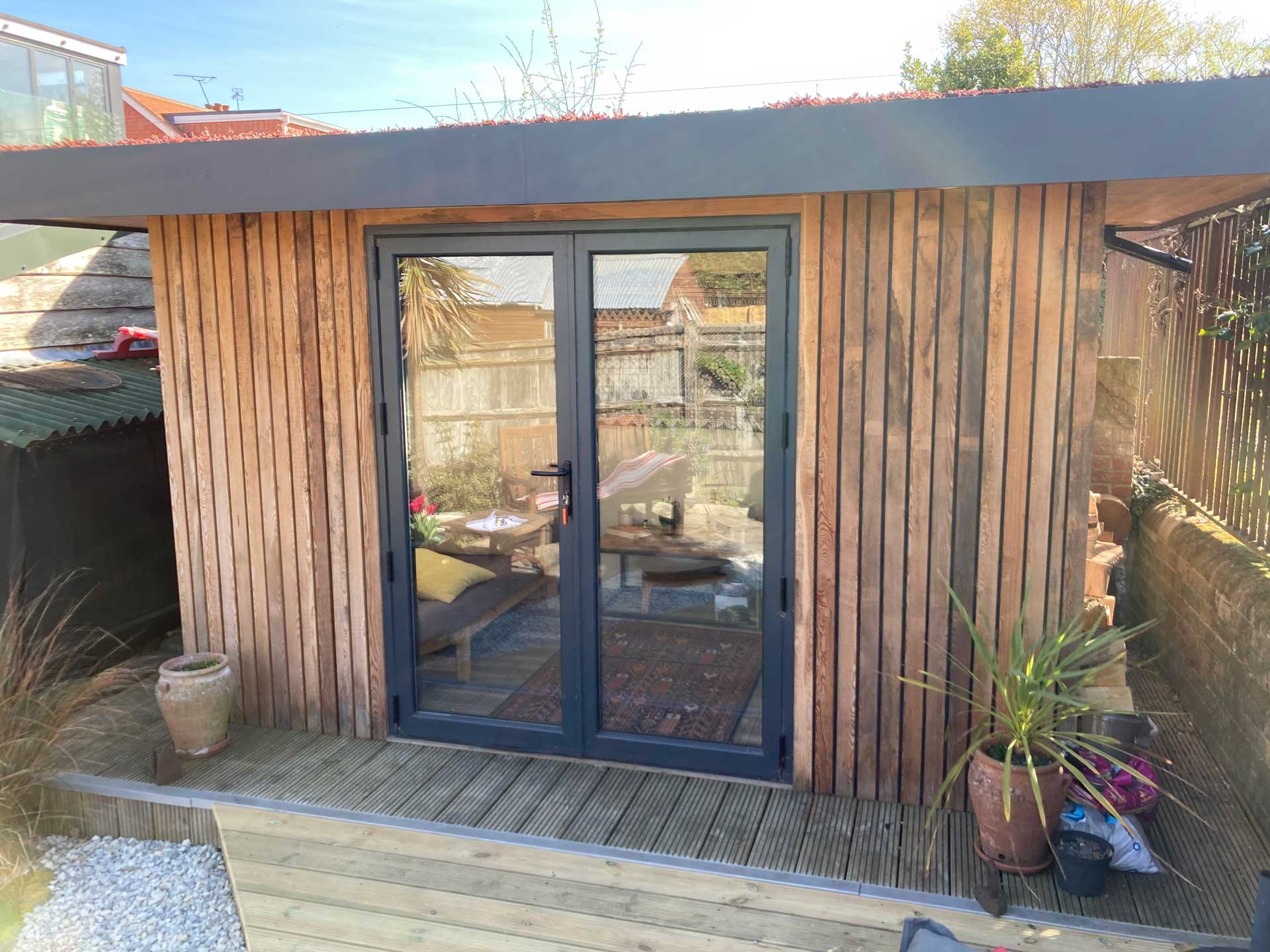 Aluminium French Doors
Invite light into your home with our AluK 58BD aluminium French doors, perfect for tight spaces with their unique opening. They'll help open up your living space for a more seamless transition around the home. Start your aluminium French door quote today!
Aesthetic Design AluK 58BD Aluminium French Doors
Aluminium French doors will provide any home with an elegant and luxurious design. Using large glass panels, aluminium double doors allow masses of light to enter your Hampshire home. With more light, these aluminium doors will help maximise the property's aesthetics. They'll even make your space seem even larger than it really is, making the most of your interior.
Made to Measure Aluminium French Doors
Our aluminium French doors are made to measure on a case by case basis, allowing us to match our range to your unique style and situation. As a result, we offer customisation features for our aluminium double doors, from colour to hardware to opening configurations. Aluminium French patio doors will be installed perfectly, measured exactly to your home's specifics.
Slim Sightlines
Our AluK 58BD aluminium french doors feature slim sightlines creates a larger glass area on the double doors. As a result, natural light will flood in through your aluminium doors for a bright and welcoming living space.
Innovative Cloaking Feature
Keeping your home safe and secure, our AluK 58BD aluminium french doors feature a unique cloaking feature. This conceals the lock which deters potential intruders and prevents access to locking points across the double doors.
Low Threshold Available
Low thresholds create a variety of benefits for your aluminium french doors. They will open up your home providing excellent ease of access through your double doors. It also removes a potential tripping hazard from the home.
Open in or Open out
Choosing aluminium french doors for your home will give you the flexibility to open them inwards or outwards, allowing you to maximise space within your home.

Whether you're putting these aluminium doors on a balcony where an inwards opening is beneficial, or a living room where an outwards opening is a priority, you'll make the most of your home.
PAS 24 Multi Point Locking
Keeping your home safe is a top priority for homeowners and another great benefit of our aluminium French doors. Aluminium is a naturally durable material that will ensure you have a strong and sturdy barrier between your home and the outside. Our aluminium double doors also have the latest multi point locking installed, which will keep your home protected from potential intruders for peace of mind.
Contemporary Sleek Look
Aluminium profiles provide a distinctly slimline aesthetic that lends them perfectly to contemporary properties. With slimmer frames, the emphasis is placed on the glass panels, creating aluminium french doors that carry a minimalist aesthetic. As a result, these double doors have a striking, elegant appearance that will add kerb appeal to your property. Make a stylistic statement with aluminium double doors.
More Information
Integral Blinds
The weather is temperamental here in the UK, dark and grim one moment before being sunny and bright the next. Integral blinds will help you keep control of the amount of light entering through your aluminium French doors. They're maintenance free thanks to the integrated design, giving a great performance without hassle.
Single and Dual Colours
Offering a wide range of colours, our aluminium French doors can achieve virtually any aesthetic style. You can inject your personality into your aluminium double door with a distinctive colour. If you want a different colour for the exterior and exterior of your aluminium door, choose dual colours.
Online, you can get a good overview of the products we offer here at Riverside Bifolds. However, it can often be very beneficial to see them in person. Head on down to our showroom to see home improvements like our aluminium French doors up close. If you have any questions, our expert staff will provide the help you need.
In House Manufacturing, Based in Southampton
Riverside Bifolds manufacture all of our aluminium doors from our very own factory in Southampton, Hampshire. This allows us to maintain a high level of quality across home improvements such as our aluminium French doors, from thermal efficiency to security.