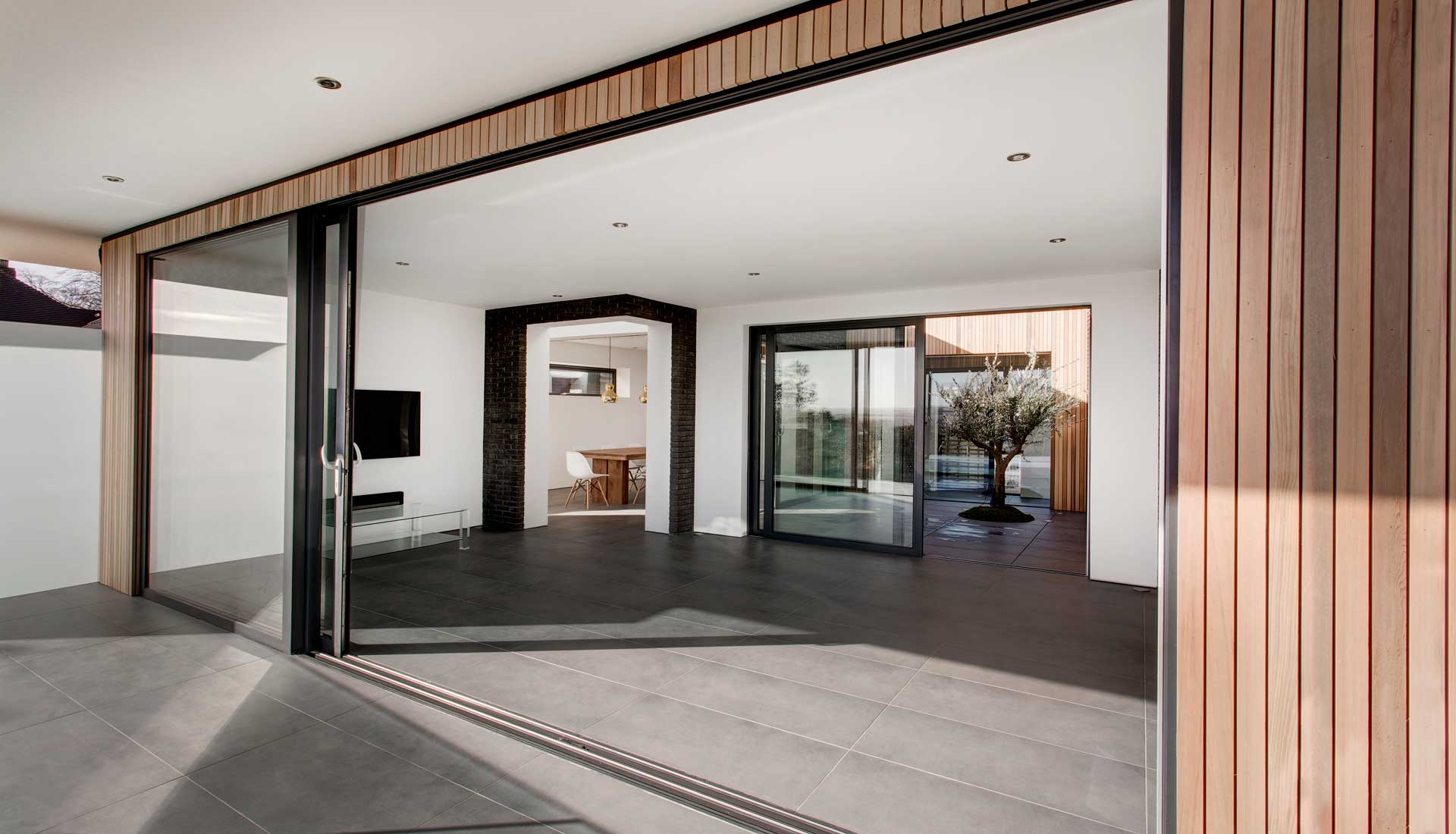 Aluminium Patio Doors
Create a seamless transition into any home with our stunning, elegant AluK BSC94 aluminium patio doors and triple track doors. Their slim sightlines allow for panoramic views and create a minimalist, contemporary design for a modern home. Start your aluminium patio door quote today!
Local Manufactured AluK BSC94 Aluminium Patio Doors, Based in Southampton
Being local to our customers, Riverside Bifolds are aluminium home improvements manufacturers with complete control over our process. Manufacturing our aluminium patio doors in house allows us to ensure they are built to the highest of standards for the very best quality.
Lightweight, Durable Aluminium Patio Doors
Aluminium is a naturally durable material, providing a strong and sturdy profile for your double glazed door. Despite their strength, aluminium patio doors are incredibly lightweight, helping aid the installation process. Aluminium patio doors are a long lasting and resistant solution.
Effortless Sliding Action
Aluminium patio doors are designed to offer a seamless opening motion, even after years of usage. They don't require any effort or strain making these aluminium sliding doors perfect for everyday use.
Low Threshold Option
Our aluminium patio doors are available with low threshold options which are a great practical solution. It makes a smooth transition to your patio or decking, connecting your home to the outside world.
Large Glazing Area
Perhaps the most aesthetic aspect of our patio sliding doors, the large glazing area offers excellent views outside of your home. At the same time, these sliding doors will let natural light fill the home for a welcoming environment.
Safe and Secure
Aluminium patio doors are naturally hard wearing and durable, giving a sturdy performance in the face of weather and intruders alike. Additionally, our sliding patio doors also feature several extra security features for peace of mind. Tested to PAS 24, our slim patio doors are secured against any eventuality. Slim patio doors will help keep your home safe.
Made to Measure
Riverside Bifolds are dedicated to a made to measure manufacturing process, which translates to several benefits. First off, it allows you to customise your aluminium patio door exactly how you want, from colour to glazing options. It also makes the installation process smoother and more efficient, with a perfect fitting ensuring the best performance.
Truly Panoramic Views
Aluminium doors make for a modern, minimalist solution, making the most of slim framing and large glass areas. This is perfect for homeowners who are looking to enjoy the views that their property provides, our aluminium patio doors open up the home. Forget about thick framing spoiling the view, with these patio doors, you'll have a wide, expansive, panoramic view.
More Information
Single or Dual Colour Options
Our bespoke manufacturing process allows Riverside Bifolds to tailor our range of aluminium patio doors to unique and specific decorative styles. You can apply a dual colour option to our slimline sliding patio doors, allowing for one colour on the inside and another on the exterior to match both decors.
Triple Track Patio Doors
You can choose either double or triple tracks for your aluminium patio doors. With additional tracks, you can stack your aluminium sliding doors, saving space and making for a compact solution. Our triple track aluminium patio doors benefit from truly panoramic views with our large glass panes.
Riverside Bifolds are dedicating to providing quality customer service, as well as allowing you to see our home improvements in person. We have a showroom where we display products such as our aluminium patio doors for customers to come and see. Here, you'll get the best idea of how our products could look in your home.
FENSA Accredited Aluminium Patio Doors
Riverside Bifolds installations are regularly checked by top UK authority FENSA meaning you can trust our aluminium patio doors to provide great thermal performance. This also removes potential hassle further down the line, with your aluminium sliding doors ensured to adhere to building regulation standards.