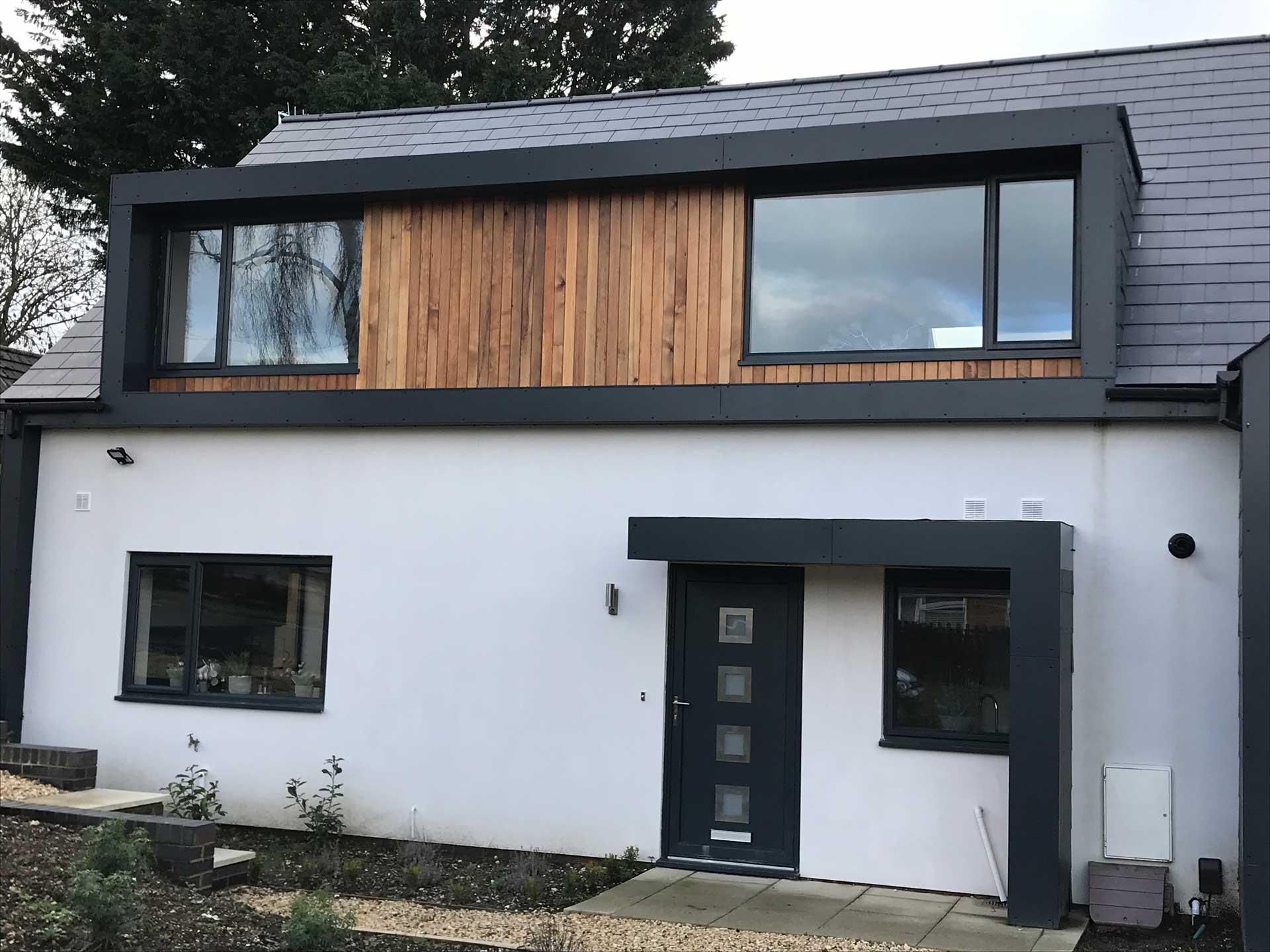 Aluminium Windows
Add strength and security to your home with our AluK 58BW aluminium window system. Designed to offer exceptional levels of protection against intruders, these aluminium windows will offer the greatest peace of mind for you or your customers. Made to measure, our aluminium windows will ensure a secure, perfect fitting. Start your aluminium windows quote today!
Made to Measure Aluminium Windows for Hampshire Homes
Aluminium windows could be what you need to bring your home into the modern age. With their slim sightlines that emphasise the glass panes, our aluminium double glazed windows are designed to bring style and looks to any home. The made to measure nature of Riverside Bifolds manufacturing process allows us to go above and beyond other home improvements companies and offer the greatest levels of customisation.
AluK Aluminium Windows
We use AluK profiles to manufacture our aluminium windows. This ensures that our aluminium double glazing home improvements are of high quality, granting great thermal and acoustic performance. We have a close partnership with AluK, being their installer of the year. With Riverside Bifolds aluminium style windows, you'll benefit from superior frame strength combined with a thermally broken profile, keeping your home safer and warmer.
Long Lasting Aluminium Frame
Aluminium is an excellent choice of window, thanks in part to its amazing longevity. Incredibly strong, resistant and durable, you're unlikely to need replacement with Riverside Bifolds' aluminium windows.
Clean Sightline with Large Glass Panes
Enjoy greater views from your home thanks to aluminium windows' large glass panes. Offering unbroken sightlines, you'll get excellent views outside of your home for the best mix of style and substance.
Secure Profile
Relax inside your home safe and sound, thanks to the security features found on our aluminium windows. With a range of state of the art locking mechanisms and a long lasting, durable profile, you'll enjoy true peace of mind.
Thermally Efficient Double Glazing
Our aluminium windows achieve a low U-value through glass panels. Double glazed as standard, these aluminium windows are "A" rated for the best levels of thermal efficiency. There is also triple glazing available on our aluminium double glazed windows for homeowners looking to ensure that their home remains as warm as possible while bills stay the lowest they can.
Environmentally Friendly
Riverside Bifolds are dedicated to environmentally friendly aluminium window production. Working with our top quality supply chains, we produce aluminium casement windows that are 100% lead free. Removing this harmful material from the environment, we can ensure that our windows are safe. They're also fully recyclable at the end of their life.
British Made
We're dedicated to support UK businesses with the production of our aluminium windows. Our Liniar supplied casement windows are manufactured in Derbyshire at the HL Plastics extrusion plant. By keeping our supply chains national, we have more control over the quality of our home improvements. Riverside Bifolds support national business and the best quality.
More Information
RAL Colours
With RAL colours, you'll be able to choose a variety of colours for your aluminium windows. Our aluminium style windows allow for any decorative style. Whether you want a stand out shade or subtle tone, we'll have what you need.
Handle Options
At Riverside Bifolds, we offer the full package. Achieve the perfect look for your aluminium windows with our range of handles. Suiting the decorative style of your home, our handles will complete the look of your casement windows.
Riverside Bifolds operate a showroom where you can see our aluminium windows up close. It's the perfect opportunity to take a look at the other aluminium products we offer, such as our windows, doors, and roof lanterns.
FENSA Accredited Aluminium Windows, Based in Southampton, Hampshire
Our made to measure fabrication process for our aluminium windows allows Riverside Bifolds to go above and beyond other home improvement companies. As a sign of the quality of our aluminium double glazing, we have accreditation from top UK authority FENSA. This ensures building regulation compliance, allowing you to cut through all the red tape.