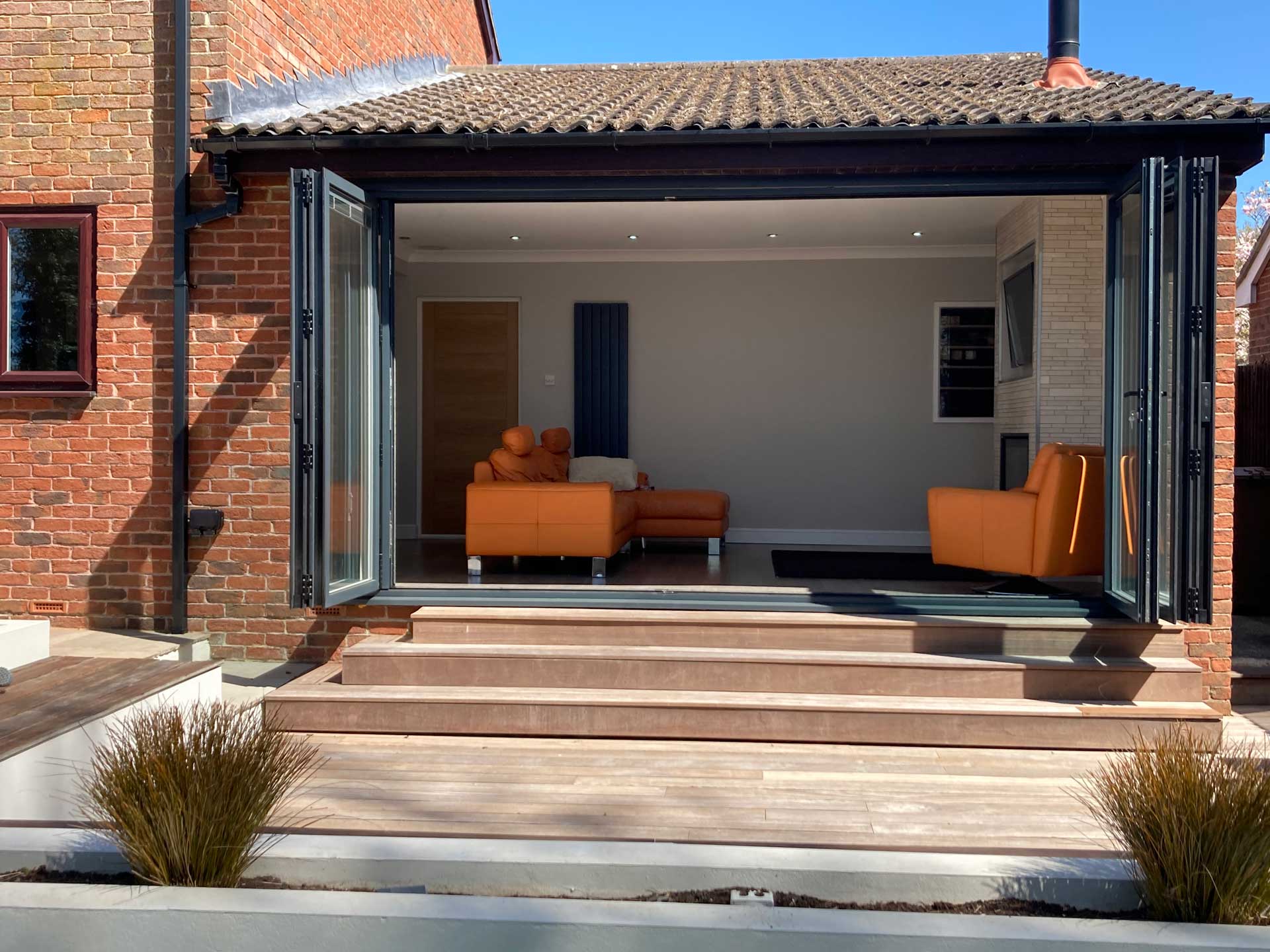 Slimline Aluminium Bifold Doors
Our AluK F82 slimline aluminium bifold doors are an elegant, minimalist door solution. These stunning folding doors will let natural light flood into your home while keeping the weather outside, providing style and substance. Start your slimline aluminium bifold door quote today!
Thermally Efficient AluK F82 Slimline Aluminium Bifold Doors Across Hampshire
Making sure that any Hampshire home has a good standard of energy efficiency, our AluK F82 slimline aluminium bifold doors have been tailored for thermal performance. With an industry best U-value of just 1.3 W/m²K double glazed and 0.9 W/m²K with triple glazing, your slim profile bifold doors will help trap warmth within the home in winter. In summer, opened slim profile bifold doors keep a cool and airy environment.
Panoramic View Slimline Bifold Doors
AluK F82 slimline aluminium bifold doors use large glass panels to bring amazing views into the home while keeping the effects of the weather outside. Living up to their name, our slimline folding doors have a minimalist profile, following the latest design trends. They're perfect for homeowners looking to update their home inline with modern style for the perfect look.
Flush Hardware
Our slimline aluminium bifold doors include discretely fitted, durable hardware. Featuring a unique, flush, pop out style handle, slim profile bifold doors are easy to operate as well as visually stunning.
Safe and Secure
Homeowners can enjoy peace of mind with Riverside Bifolds slim profile bifold doors. They have a range of security features installed. PAS 24 accreditation ensures that these slimline folding doors keep unwanted intruders at bay.
Slimline 122mm Interlock
These slimline aluminium bifold doors feature a sleek, 122mm interlock which creates a truly contemporary style. At the same time, they'll provide the best security for an aluminium door. They offer both style and substance.
Large Glazing Area
A large glazing area provides several qualities for your slimline aluminium bifold doors. They'll invite natural light into any Hampshire home, bringing a warm and inviting effect. Having more natural light in the home, courtesy of your slim profile bifold doors can also make space seem even larger than it really is. A large glazing area also adds to the flair of these stunning doors.
Made to Measure
At Riverside Bifolds, we don't believe in a one size fits all process, preferring to create our slimline aluminium bifold doors on a case by case basis. This allows us to make our home improvements to perfectly fit each customers specifications. Achieve the perfect look for you or your customer's home with our range of slimline aluminium folding doors.
Visit Our Showroom
To get the best idea of how our range of slimline bifold doors could look in your very own home, head to our showroom. Here, you'll be able to see our expansive selection of products in person, with our friendly staff on hand to answer any questions you may have. Perhaps seeing our slimline aluminium folding doors up close will inspire you to start your own home improvements journey.
More Information
Colour Options
We provide both single and dual colour options with our slimline bifold doors. There's a whole range of flexibility. Dual colours allow for a different colour inside and out for your slim profile bifold door. Our made to measure building method allows for a range of styles.
Door Combinations
There is a selection of opening options available across our slimline aluminium bifold doors. With 17 to choose from, homeowners will be spoilt for choice from our slimline bifold doors. This will allow our slimline folding doors to suit any homeowners unique style and tastes.
Integral Blinds
Slimline aluminium bifold doors allow natural light to flood into your home, filling your living space with natural light. This creates a bright and welcoming interior for you to enjoy. With integral blinds installed, you can control these light levels to make the perfect environment for your home.
FENSA Accredited Aluminium Bifold Doors, Based in Southampton, Hampshire
FENSA accreditation ensures our homeowners receive several benefits, particularly on our slimline aluminium bifold doors. With this approval, our folding doors will comply with building regulations. This can remove potential hassle in the future, ensuring a smooth process should you move home.