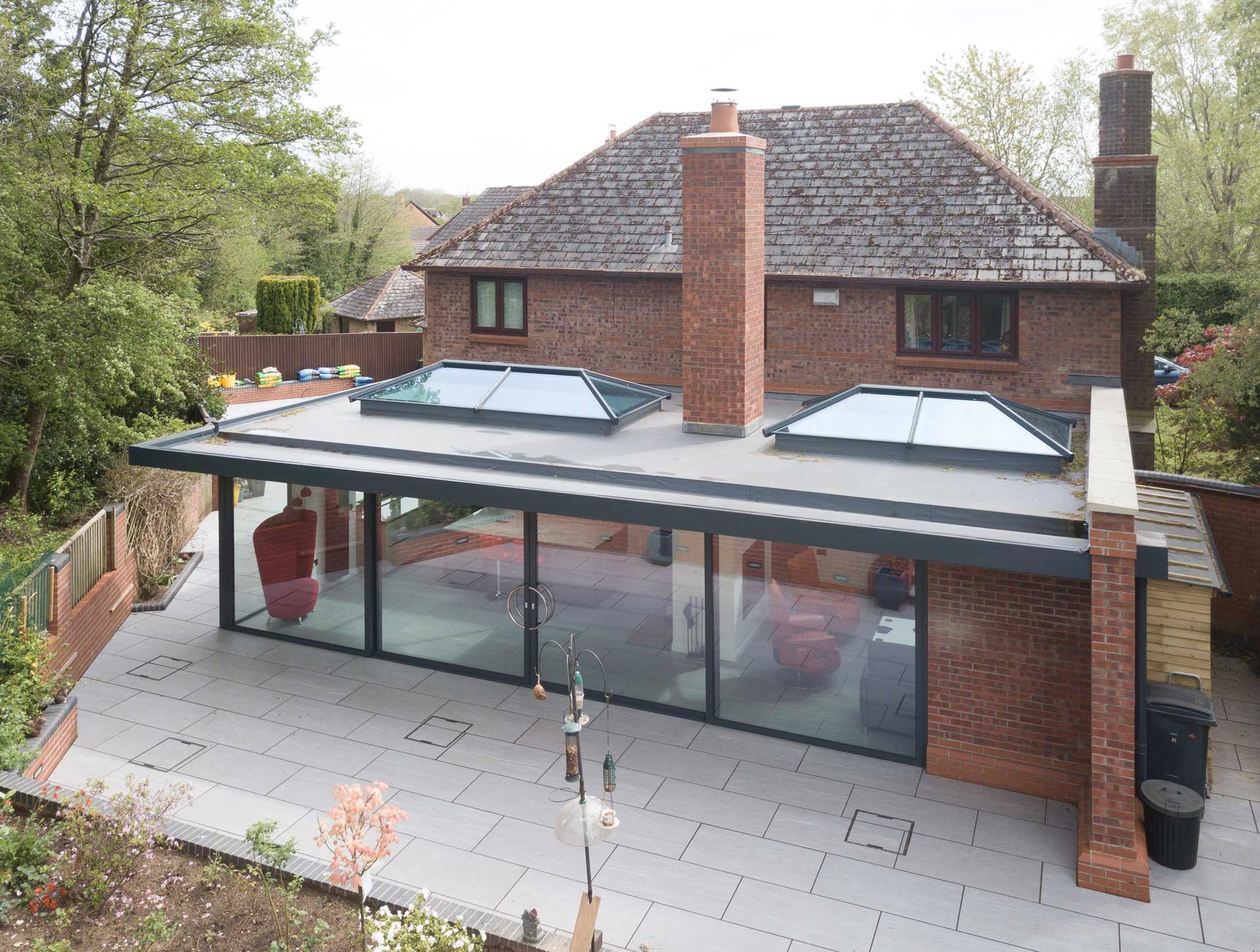 Roof Lanterns
Roof lanterns will let natural light flood into your Hampshire home for a bright and welcoming space. Made from durable materials, you can trust our skylights to offer a strong and long lasting solution, adding style to your home for years to come. Start your online roof lantern quote today!
Sleek Design Roof Lanterns for Hampshire Homes
Using a slimline aluminium profile, our roof lanterns will provide sleek and stylish aesthetics while bringing modern looks to your Hampshire home. The slimline framing allows for larger glass portions on your lantern rooflights. With this full length glazing, natural light will flood into the home, making for a bright, illuminated space. Glass roof lanterns could become a stunning focal point for any kitchen, living room or dining room.
Durable, Longevity Assured Roof Lanterns
Roof lanterns need to be durable, too, being a barrier between your home and bad weather. Aluminium is a naturally durable material that will provide your lantern skylights with great resistance against rain, wind and even snow. They'll provide a great deal of longevity, too, with roof lanterns aluminium construction resisting ageing and weathering for continued performance.
Minimal Bars
Featuring high strength construction, our roof lanterns have a superior bar and ridge, allowing for larger panes of glass. This allows for 25% fewer bars than traditional glazed roof lanterns creating better, unobstructed views.
Thermally Efficient Design
Our aluminium roof lanterns have been designed with fully insulated aluminium under cladding and are thermally broken inside and out. This will help avoid condensation build up, making them perfect for kitchens and living areas.
UK's Strongest Ridge
Aluminium is a naturally strong material, providing ample strength for your glazed roof lanterns. In fact, our range has the strongest ridge in the UK, with an IXX value of 2,226kmm4, which allows for fewer bars and larger spans.
20 Degree Pitch
Our roof lanterns use slimline frames and sleek curves to create a minimalist look that is sure to stun passers by. This works in conjunction with with a 20 degree pitch that is designed to let the best amounts of natural light flow into your home. Whether these skylights are used in a kitchen, living room or dining room, you'll have the natural light you need. Brighten up your home with our roof lanterns today.
Aluminium or uPVC
Aluminium is renowned for offering strength and a great lifespan. This makes it an excellent material for the construction of our lantern roofs. However, you can also choose uPVC for your glazed roof lantern. This is a cost effective solution that requires virtually no maintenance to stay looking in top shape. Whichever you choose, you'll be able to experience minimalist construction which creates unobstructed views.
Storm Shield Protection
Wind, rain and snow can all hit hard and fast here in the UK. As a result, our roof lanterns need to be able to stand up to the rigorous effects of weathering.
Thankfully, out aluminium or uPVC roof lanterns use triple layer storm shield protection, resisting even the harshest weather. You'll never have to worry about the structure of your roof, these roofs are built to last.
More Information
Colour Options
Our roof lanterns are the perfect match for any orangery or extension. Our aluminium roof lanterns are available in grey, white or black externally, and grey or white internally. Our uPVC offerings come in grey or white both externally and internally. Glass colour options, including ambi blue or natural, are also availlable.
Fitter Friendly
We manufacture our roof lanterns in house, providing a kit that is easy and quick to install. This is made simple with our pre-assembled ridgeLOCK system, clip-on ridge end covers, pre-fitted thermal clips and easy-fit clip-on capping. Move into your new living space in no time at all with your high quality lantern.
Meet our team here at Riverside Bifolds where we welcome visits from homeowners and trade customers. Pop into our showroom and meet our expert team today. They'll be able to answer any questions you have, as well as talk you through design ideas. You might just find some ideas for your own home improvements.
In House Manufacturing
Riverside Bifolds strive to set the standards when it comes to our range of roof lanterns. That's why we manufacture our products in house, making sure that our lantern skylights have the best materials and construction. We're dedicated to lasting, quality home improvements for our customers.