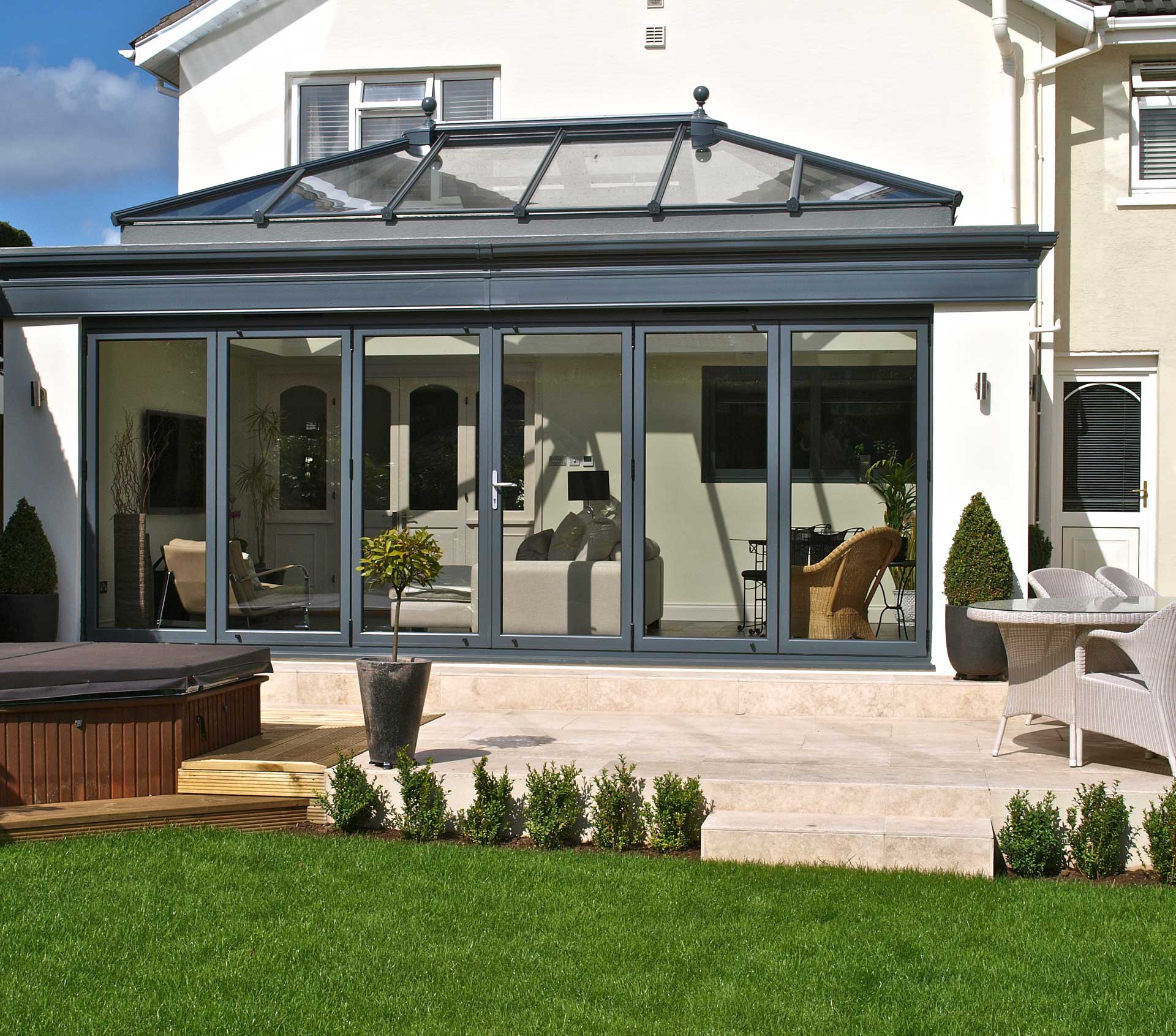 Aluminium Bifold Doors
Inject your home with contemporary aesthetics using our AluK BSF70 aluminium bifold doors. With their unique and wide openings, you'll be able to get the best benefits of ventilation while also opening up your home's exterior and interior. Start your aluminium bifold door quote online today!
Minimalist Style Aluminium Bifold Doors
The peak of modern style, AluK BSF70 aluminium bifold doors enhance any property. Featuring slim sightlines, they help to create a minimalist aesthetic with their wider areas of glass. This is in keeping with modern design trends, making sure that our aluminium folding doors will provide contemporary charm to any Hampshire home. The AluK BSF70 will also allow for smooth transitions in your living space, with a wide opening making for easy access in and out of the home.
High Performance Aluminium Bifold Doors
AluK BSF70 aluminium bifold doors will ensure peace of mind within your or your customer's home. With accreditation from PAS 24 and Secured by Design, you can trust them to deliver excellent protection. Aluminium folding doors are naturally tough, but we have combined security hinges and locking mechanisms to help keep customers safe from any threats. These aluminium bi folding doors have also been weather tested, ensuring a lasting, durable performance.
Pop Out T Handle
Using an innovative, flush pop out handle, our aluminium bifold doors are able to stack flush when fully open. This allows you to truly open up the space within your or your customer's home.
Stainless Steel Roller
Enjoy smooth operation from our aluminium bifold doors thanks to their stainless steel rollers. They'll glide open effortlessly. This allows for a hassle free use for you or your customers for many years to come.
Slimline, Durable Framework
Amongst the hardest wearing materials, aluminium allows our folding doors to perform for longer. Unlike outdated bifold door systems, aluminium bifold doors are likely to provide decades of long lasting performance.
Secured by Design
Granting peace of mind for customers, you'll never have to compromise on security when you choose our aluminium bifold doors. We offer our bifolds to Secured by Design standards, assuring customers are protected with the latest security features. Feel reassured with our folding doors, keeping your Hampshire home protected.
Made to Measure Aluminium Bifold Doors
Riverside Bifolds manufacture on a case by case basis, which allows for a great amount of customisation. From colours to hardware, our customers can tweak virtually any part of our aluminium bifold doors. It also makes sure that the fitting process of our bifold doors is smooth.
Visit Our Showroom
If you want to get the best idea of how our aluminium bifold doors could look in either your or your customer's home, come and visit our showroom. Here, our helpful staff will be on hand to answer any questions you may have about our aluminium folding doors, helping you start your own home transformation.
More Information
Dual Colour Option
Dual colour options allow customers to match the inside of their aluminium bifold doors to one style and the exterior to another. This will create a consistent look with the design of your bifolds. For the greatest options when it comes to colour, choose Riverside Bifolds.
Door Combinations
One of the biggest choices to make is deciding on the opening layout of your aluminium bifolds. There are 17 opening configurations for customers to choose from, allowing you to tailor our folding doors to your preferred tastes. All configurations allow for open in or open out opening options.
Integral Blinds
The perfect accompaniment to your aluminium bifold doors, our integral blinds will help homeowners keep comfortably cool all year round. They'll allow you to block out the sun during the summer months, allowing for all distractions to be cut out of the home.
FENSA Accredited Aluminium Bifold Doors, Based in Southampton, Hampshire
FENSA accreditation ensures our homeowners receive the best performance from our aluminium bifold doors. With this approval, our folding doors will comply with building regulations. This can remove potential hassle in the future, ensuring a smooth process should you move home.