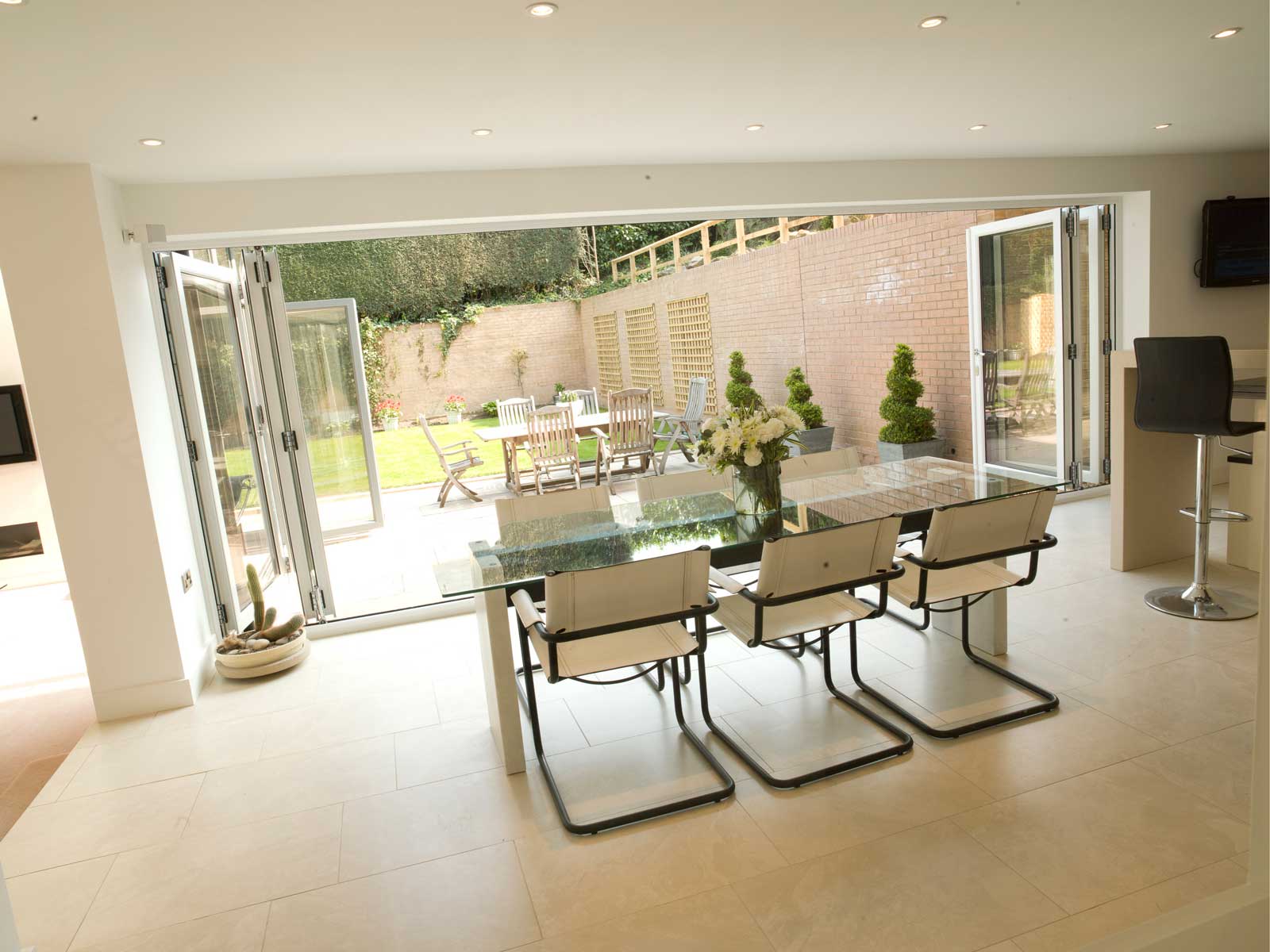 uPVC Bifold Doors
For performance and a long lifespan, take a look at our Liniar Modlok uPVC bifold doors. These bifold doors are made from high grade uPVC, taking all the hassle away from maintenance while staying looking stunning. Start your uPVC bifold door quote online today!
Low Maintenance Liniar Modlok uPVC Bifold Doors
For a fit and forget style of door, look no further than Riverside Bifolds' Liniar Modlok uPVC bifold doors. uPVC is renowned for its low maintenance qualities, which makes it a perfect material for bifold doors. Thanks to the naturally hardwearing nature of our Liniar Modlok bifold doors, they require little cleaning to stay looking their best. A simple wipe of a cloth can keep your uPVC folding doors looking their best.
Long Lasting, Durable uPVC Bifold Doors
Strength and security are ensured with our uPVC bifold doors, thanks to their patented exoskeleton design. Enjoy bifolds that have an excellent combination of durability and longevity, having been tested for over 127,000 cycles. Also featuring Secured by Design accreditation, these Liniar ModLok doors really are in a class of their own.
Low Threshold
Opening your home up to any guests, we offer a low threshold option for our uPVC bifold doors. Removing an obstacle from entry, this will allow for easy access and also removes a trip hazard. Create a seamless transition through your bifolds with a low threshold.
Patented ModLok Locking System
Our range of Liniar supplied uPVC bifold doors feature a patented ModLok system that will protect homes from outside interference. This system combines aluminium reinforcement with the latest state of the art multi point locking for a highly secure uPVC folding door.
Matching Foil Colour
Helping homeowners achieve a perfectly uniform look across their property, our uPVC bifold doors can be colour matched to our windows. This will allow homeowners to achieve exactly the design that they have in mind.
Cost Effective Bifold Doors
uPVC bifold doors are a perfect cost effective option for homeowners looking to get all the style of folding doors without breaking the bank. Compared with timber doors, they are much less expensive and also don't require anywhere near as much maintenance. If you're looking for a solution that combines style and substance, these are the perfect bifold doors.
Thermally Efficient
If you're looking to improve the thermal efficiency of your home, our multi chambered design uPVC bifold doors will help to achieve this. Bubble gaskets create continuous sealing throughout the profile, preventing cold air entering the profile and keeping your home warmer. If you're looking for an energy efficient home, try our Liniar ModLok bifold doors.
Visit Our Showroom
Riverside Bifolds have a dedicated showroom that features many of our home improvements, including our uPVC bifold doors. Here, you'll be able to find out more about all the colour and finish options that are available for our folding doors, showing the possibilities for your or your customers home. Come and visit our showroom, where we can guide you through our products.
More Information
Colour and Finish Options
Allowing for virtually any decorative style and individual tastes, we offer our uPVC bifold doors in a range of colours. We have the classic bifold door colours, for those looking for a subtle finish, and several woodgrain options that allow for homeowners to maintain a traditional look.
Door Combinations
There are many opening configurations on offer with our uPVC bifold doors, suited to every individual customer's needs or requirements. From two to seven panes, you can choose however many panes you need for your uPVC folding door, each up to one meter in width.
Integral Blinds
Control sunlight coming into your home through your bifold doors with our range of integral blinds. They're protected from dirt thanks to their being sealed within a double glazed unit. This makes them very low maintenance, while their easy to operate mechanism also makes them hassle free.
FENSA Accredited uPVC Bifold Doors, Based in Southampton, Hampshire
FENSA accreditation ensures our homeowners receive several benefits, ranging from energy efficiency to building regulation compliance for our uPVC bifold doors. With our folding doors, you'll be able to cut through the red tape for a hassle free process.